Professional Battery Analyzer Smart 5000mAh
No results found for your request.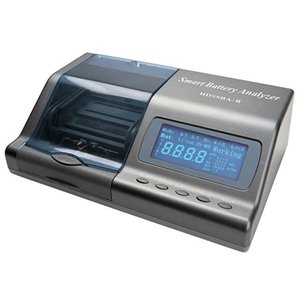 Add to comparison
Compare
ID: 813020
3.7 kg
110, 220 V
Availability in stock:
HK
EU
CN
UA
Overview
Smart Battery Analyzer II is a high capacity tester compatible with batteries up to 5000 mAh so it can analyze even laptop batteries. The latest powerfull technology allows to connect the device directly to PC to perform rapid analyzing. Due to computer interface, the CH/DCH curve is shown on LCD. The battery analzyer can test up to 9.6 V digital camera and digital video camcorder battery packs up to 2500 mAh. The testing results are much more accurate in compison with the older version, battery capacity and internal resistance testing data have higher precision level (due to 4 probe pins instead of 2 and intelligent polarity detection).
;
Smart Professional Battery Analyzer Features
More accurate testing results due to 4-pole probes applied
Easy operation: the SBA can be operated either by PC or keyboard
Rapid analyzing + result printing on normall printer connected to PC
CH/DCH curve is shown on LCD
PC interface to control and monitor battery analyzer
Printing saved data on regular printer (or specified mini printer)
Intelligent identification of the "+"and "-" battery poles
Compatible with all kinds of mobile phone's battery packs, most digital camera battery packs and some digital video camcorder battery packs up to 9.6 V
Testing Li-ion, Li-Pol and Ni-MH rechargeable battery packs
Quick testing mode: takes only 15 seconds to measure battery voltage and internal resistance, check its short circuit protection and charge/discharge circuit available in the battery pack
Full measuring of battery actual capacity, charging/discharging time, internal resistance, overcharging protection, overdischarging protection, short circuit protection
Up to 4.3 V charging voltage (the last version is 4.2 V over charging voltage) to meet the latest requirements of overcharging protection circuit to be tested without miss-reporting
Two testing modes (selected by user): 1C (fast charging/discharging current) and 0.2C (slow charging/discharging current for particular accuracy of testing result)
Battery reactivating after being left unused for a long period of time
Fast ans slow battery charging/discharging
Polarity reversing switch for easy contact polarity correction while testing a battery
Driver CD (in English) included
Rapid anaylizing screenshots
;
;
;
Battery testing options
Li-Ion 3.6 V (3.7 V), 7.2 V (7.4 V)
Li-Ion Polimer 3.6 V (3.7 V), 7.2 V (7.4 V)
Ni-MH 2.4 V, 3.6 V, 4.8 V, 6.0 V, 7.2 V, 8.4 V, 9.6 V
Capacity range for testing: 50 mAh -- 5000 mAh
Smart Professional Battery Analyzer Specification
| | |
| --- | --- |
| Input voltage | 110 V / 220 V AC ± 10% |
| Output current | < 5000 mA |
| Working frequency | 50 Hz / 60 Hz ± 1 Hz |
| Working temperature | 0...+45 °C |
| Relative humidity | < 85 % |
| Size | 270 x 170 x 80 mm |
| System requirement | Windows 98 or above |