Professional Field Engineer's Tool Kit Pro'sKit 1PK-850B
No results found for your request.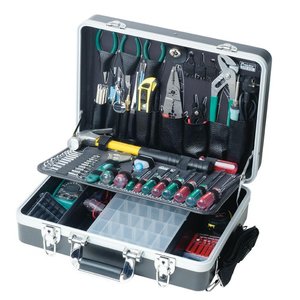 Add to comparison
Compare
Availability in stock:
HK
EU
CN
UA
Overview
Field engineer's tool kit consists of various pliers, cutters, screwdrivers, wrenches and other tools required for inspection and repairing operations. Pro'sKit 1PK-850B is powered from 220 V mains and contains instruments of metric sizes.
Field Engineer's Tool Kit Contents
| | |
| --- | --- |
| 103-132D | Utility component storage box |
| 1PK-108T | Reverse action tweezers |
| 1PK-3171 | Spring hook |
| 1PK-317N | Spring hook |
| 1PK-701 | Micro cutting pliers |
| 1PK-705 | Diagonal cutting nippers |
| 1PK-706 | Long nose pliers |
| 1PK-A001 | 10 pcs trimming tool set |
| 1PK-H028 | Adjustable wrench 8" |
| 1PK-SC109B | Quick heat ceramic soldering iron 220 V |
| 89101A | Slotted screwdriver 3.2 x 75 mm |
| 89101B | Crosshead screwdriver #0 x 75 mm |
| 89102A | Slotted screwdriver 5.0 x 75 mm |
| 89102B | Crosshead screwdriver #1 x 75 mm |
| 89107A | Slotted screwdriver 6.0 x 100 mm |
| 89107B | Crosshead screwdriver #2 x 100 mm |
| 89113B | Crosshead screwdriver #2 x 150 mm |
| 89117B | Crosshead screwdriver #2 x 250 mm |
| 89120A | Slotted screwdriver 6.0 x 38 mm |
| 89120B | Crosshead screwdriver #2 x 38 mm |
| 8PK-022 | 7 pcs set of miniature L shaped allen wrenches |
| 8PK-2061 | 6 pcs set of electronic screwdrivers |
| 8PK-249 | Snap ring pliers set |
| 8PK-CT009 | Multi-purpose crimping tool (metric) |
| 9113A | Slotted screwdriver 6.0 x 150 mm |
| 9C004 | Oil can |
| 9FL-005 | Mini lash light |
| 9HAM-1 | Carpenter hammer |
| 9S002A/B/C | 3 pcs soldering aid tools |
| DK-2039 | Utility knife (3 blades self loading) |
| DK-2040 | Measuring tape 3M/10FT |
| HW-608B/108-608B | 10 pcs electronic combination wrench (metric) |
| MS-391 | Inspection mirror |
| PN-P010N | Slip-channel pump pliers 254 mm |
| 9PK-850-P | Pallet for 1PK-850 |
| 9PK-850 | ABS carrying tool case w/1 pallet |
Field Engineer's Tool Kit Specifications
| | |
| --- | --- |
| Soldering voltage | 220~240 V |
| Case size, mm | 438 x 310 x 145 |
| Standard plug | B |
| Individual packing | Color box |
Professional Field Engineer's Tool Kit Pro'sKit 1PK-850B