RLC Meter BOKAR Smart Tweezers ST-5-AS
No results found for your request.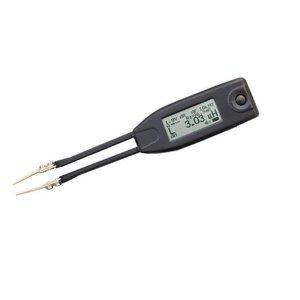 Add to comparison
Compare
Availability in stock:
HK
EU
CN
UA
Overview
BOKAR Smart Tweezers ST-5-AS RLC Meter is a professional high-precision device integrating a digital multimeter with a high precision SMD probe in a tweezers-type design. RLC meter is used for electronic component and PCB impedance testing. BOKAR Smart Tweezers ST-5-AS RLC Meter ensures the highly accurate measuring of resistance (R), inductance (L), capacitance (C) and other values. Using the RLC meter decreases the time needed to troubleshoot and debug a complex PCB.
Dual graphic displays allow full control of the measuring process. During the measurements with BOKAR Smart Tweezers ST-5-AS the primary display shows the present reading. The secondary display field (on top) shows the present reading of additional parameters.
BOKAR Smart Tweezers ST-5-AS RLC Meter Features
Dual graphic displays.
Fully automatic measurement of capacitance, inductance, resistance, voltage, continuity, diode polarity.
Auto range.
Automatic measurement mode recognition.
Up to 4 measurements per second.
A bar graph provides an analog indication of the measured value.
Open circuit sound indication.
Tweezers tips are made of gold-plated non-magnetic stainless steel.
Convenient one-hand operation.
Ergonomic design.
Convenient controls.
BOKAR Smart Tweezers ST-5-AS RLC Meter Technical Specifications
AC test frequency
1 kHz, 10 kHz, 120Hz, 100 Hz
Test frequency accuracy
50 PPM (0.005%)
Test signal level
0.25/0.5/1.0 +/- 5% VRMS
Source impedance
62.5 Ω/1 kΩ/16 kΩ +/- 1%
Measurement update rate
up to 4 measurements per second
Battery type
3.7 V LiPO, rechargeable (150 mAh)
Charge time
2.5 hours, current < 100 mA
Calibration interval
1 year
Size
14.0 × 2.5 × 3.0 cm (3.94 × 0.9 × 1.5 in)
Weight
53 g (0.11 lb)
Operating and Storage Conditions
Operating temperature
0°C – 50°C
Storage temperature
-40°C – 70°C
Relative humidity
0 % – 90 % (0°C – 35°C)
Operating altitude
0 – 2000 meters
Storage altitude
0 – 10000 meters
EMC
Class B
Maximum measurement ranges
Resistance
0.05 Ω – 9.9 MΩ
Capacitance
0.5 pF – 999 μF
Inductance
0.5 μH – 999 mH
Maximum resolution
Resistance
10 mΩ
Capacitance
0.1 pF
Inductance
0.1 μH
Accuracy specifications
Parameter
Measurement range
Basic measurement accuracy *
Resistance
1Ω to 999 kΩ
< 0.2%
0.1 to 9.9 MΩ
< 0.5%
Capacitance
10 pF to 100 μF
< 0.5%
0.5 pF to 999 μF
< 1.0%
Inductance
10 μH to 99 mH
< 0.5%
0.5 μH to 999 mH
< 1.0%
* at optimum test frequency, without offset calibration