Semiautomatic LCD Touchscreen Glass Separator Machine MT-ZDF220 compatible with Apple iPhone SE, (for LCDs up to 7")
No results found for your request.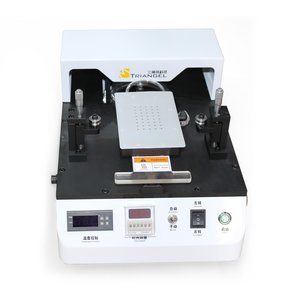 Add to comparison
Compare
Availability in stock:
HK
EU
CN
Note! This item is shipped within 7 working days.
Overview
MT-ZDF220 is the separator machine with an external vacuum pump. The LCD module is attached to the separator platform with the sucked air flow. We recommend using it to separate the broken glass and the display module in up to 7" smartphones/cell phones or tablets.
Note! The vacuum pump is not included in the package.
MT-ZDF220 Technical Specifications
| | |
| --- | --- |
| Power | 220 V |
| Temperature range | 0-400 °C |
| Platform power consumption | 250 W |
| Platform size | 170x100 mm |
| Device size | 520x320x200 mm |
| Compatible LCD modules | up to 7" |
Recommended Vacuum Pump Technical Specifications
| | |
| --- | --- |
| Model | FY-1H-N |
| Power | 110/220 V |
| Power consumption | 150 W |
| Size | 260x110x200 mm |
MT-ZDF220 Operating Principles
Fix the wire to the shaft pulley. Then place it between adjusting rollers. (1)
Put the display module on the silicone pad.
Adjust the height of the wire location so that it fits tight to the glass. Check it in the manual mode. (2)
Turn the separator on and pull the Red Button aside. Set the temperature at approximately 100-120 °C. (3)
Adjust the motor speed. (4)
Button position (5)
Button in Up position - the shaft runs clockwise, the wire moves from the left to the right respectively.
Button in Down position - the shaft runs counter-clockwise, the wire moves from the right to the left respectively.
Button in Middle position - the wire moves in both directions. Use the Middle position of the button to separate the glass from the module.
Switch the toggle to turn on the compressor. (6)
When the separator is heated to the required temperature, carefully move the platform forward.
Set the timer. (7)
Pros and Cons:
Pro: Easy to use. This separator securely fixes the display module to the platform even if the glass edges are broken. Due to wire adjustment accuracy the probability to damage the polarizing film is minimal. If the vacuum pump or the separator had broken, you can buy one or the other separately.
Con: Working vacuum pump makes light noise.
Package Contents
Device — 1 pc.
Power cable — 1 pc.
Silicone pad — 1 pc.
Wire 30m — 1 pc.
Video
Specifications
Semiautomatic LCD Touchscreen Glass Separator Machine is compatible with the following models of Cell phones

Apple iPhone 4
Apple iPhone 4S
Apple iPhone 5
Apple iPhone 5S
Apple iPhone 5C
Apple iPhone 6
Apple iPhone 6 Plus
Apple iPhone SE
Samsung I9100 Galaxy S2
Samsung I8910 Omnia HD
Samsung N7000 Note
Samsung I9300 Galaxy S3
Samsung I9220 Galaxy Note
Samsung N7100 Note 2
Samsung I9105 Galaxy S2 Plus
Samsung I9500 Galaxy S4
Samsung N7105 Note 2
Samsung I9505 Galaxy S4
Samsung I9305 Galaxy S3
Samsung N7005 Note

Specification
Semiautomatic LCD Touchscreen Glass Separator Machine MT-ZDF220 compatible with Apple iPhone SE, (for LCDs up to 7")