Smartphone/iPhone Wi-Fi Mirroring Adapter and Connection Cable Kit for Toyota Touch, Scion Bespoke
No results found for your request.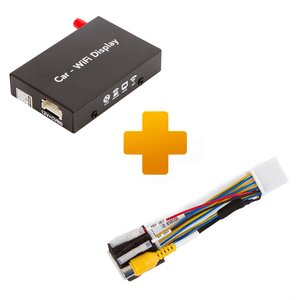 Add to comparison
Compare
Availability in stock:
HK
EU
CN
Note! This item is shipped within 15 working days.
Overview
The kit includes a smartphone/iPhone mirroring adapter and a video connection cable for Toyota Touch and Scion Bespoke monitors.
Adapter
Adapter for connecting iOS and Android devices to the car multimedia system. Allows to play video and audio on the connected monitor. Supports screens mirroring to display navigation, menu, applications, etc. on the connected monitor.
The adapter is connected to the monitor via RCA cable. iPhone/iPod/iPad or Android phone/tablet PC are connected to the adapter via Wi-Fi and thus stream video and audio to the connected monitor. Screen mirroring function is also supported.
Note! The sound may be missing because the adapter uses a specific audio signal without the GND signal and some equipment can't recognize this type of signal. The simplest solution is to put a jumper between the terminals, as shown on the photo.
Note! The adapter now supports devices with iOS11 operating system. Update instructions can be found here.
Video connection cable
This cable allows you to arrange audio and video input in Toyota with Touch system, Scion with Bespoke system without using a video interface. After the cable connection "AV input" icon is automatically activated in the monitor and video in motion is unlocked using the additional 28 pin cable. As a result you receive fully functional AV input with possibility to connect composite video signal PAL\NTSC and also linear stereo signal.
You will also enjoy the possibility to connect a rear view camera using this cable for video in motion unlock. If you already have the OEM camera, it will continue working the same way as before.
All OEM functions of the monitor will work in the same way as before.
Adapter and Cable for Toyota and Scion
Video Review
Adapter
Cable
Adapter and Cable for Toyota and Scion
Compatibility
Toyota
Model
Model Years
System / Monitor
Additional compatibility conditions
From
To
Auris
2010
2014
Touch
Touch&Go
Touch&Go Plus
28 pin and 16 pin
socket on the monitor
for cables connection
Auris Hybrid
2010
2014
Avensis
2011
2014
Camry
2011
2014
Camry Hybrid
2011
2014
Corolla
2011
2013
Fortuner
2011
2014
GT86
2012
2015
Highlander
2012
2014
Highlander Hybrid
2012
2014
Hilux
2011
2014
Matrix
2011
2014
Prius
2011
2014
Prius C
2012
2014
Prius MPV+
2012
2014
Prius Plug-in Hybrid
2012
2014
RAV4
2010
2014
Tacoma
2012
2014
Venza
2013
2014
Verso
2009
2014
Verso S
2010
2014
Yaris
2011
2014
Yaris Hybrid
2012
2014
Scion
Model
Model years
System/Monitor
Additional compatibility conditions
From
To
FR-S
2013
2015
Bespoke
28 pin and 16 pin
socket on the monitor
for cables connection
iQ
2013
2015
xB
2013
2015
xD
2013
2015
tC
2013
2015
Adapter and Cable for Toyota and Scion
Adapter Technical Specifications
Signal standards
Miracast, Airplay, DLNA
Wi-Fi
802.1 b/g/n
Frequency
2.4 GHz
Working temperature
-20°C~75°C
Outputs:
AV
HDMI
Weight
133
Dimensions
86 mm × 58 mm × 18 mm
Input voltage
12 V
Consumed power
2.5 W
Adapter and Cable for Toyota and Scion
Manuals
To adjust the video system of the input video signal or switch the picture mode (4:3, 16:9), refer to the user manual of your monitor.
In case you connect the rear view camera, the camera should be powered from the ACC, i.e. the camera should work constantly but not only when the rear gear is on.
Note! After this cable connection the OEM microphone of OEM BT-Hands-Free will work the same way as before (if it has been installed). if there is no OEM microphone in your car, you will need the AV cable with microphone. Please, contact the manager to purchase that cable (or leave the comments in the order).
Adapter and Cable for Toyota and Scion
Package Content
Specifications
Smartphone Connection Kit is compatible with the following models of Cars
Smartphone Connection Kit is compatible with the following models of Cars
Smartphone Connection Kit is compatible with Head Units
Smartphone Connection Kit is compatible with Smartphone Screen Mirroring
Smartphone Connection Kit is compatible with Bluetooth/USB adapters for iPhone/Smartphone
Smartphone/iPhone Wi-Fi Mirroring Adapter and Connection Cable Kit for Toyota Touch, Scion Bespoke