Soldering Iron Tip AOYUE T-1.2LD
No results found for your request.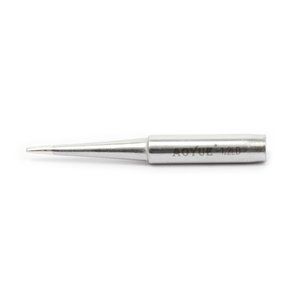 Add to comparison
Compare
Availability in stock:
HK
EU
CN
UA
Overview
AOYUE T-1.2LD Soldering Iron Tip is a replacement soldering iron tip with double-sided cut for precision component soldering (25 mm, ⌀ 1.2 mm). AOYUE T-1.2LD tip is compatible with a wide range of ATTEN, AOYUE, Lukey soldering stations.
Compatibility
Specifications
Soldering Iron Tip is compatible with the following models of Desoldering Stations
Soldering Iron Tip is compatible with the following models of Soldering Stations

AOYUE Int 3210
AOYUE 463 Tesla
AOYUE 463+ Tesla
AOYUE 936
AOYUE 469
AOYUE 937
AOYUE 937+
AOYUE 936
Lukey 936+
Lukey 936A
Pro'sKit SS-206B
Pro'sKit SS-207B
Goot PX-501
Goot PX-501AS
Goot PX-601

Soldering Iron Tip is compatible with the following models of Hot Air Soldering Stations

AOYUE 906
AOYUE 738
AOYUE 768
AOYUE 908+
AOYUE 909
AOYUE 768
AOYUE 899A+
AOYUE 968
AOYUE 968
AOYUE 906C
AOYUE 768
AOYUE 909
AOYUE 768+
AOYUE 768+
AOYUE 899A+
AOYUE 908+
AOYUE Int968A+
AOYUE Int968A+ 
Lukey 702
Lukey 850D
Lukey 852D+FAN
Lukey 868
Lukey 898
Lukey 852D+
Lukey 852D-300-301
Lukey 853D
Lukey 852D+
Lukey 853D
Accta 301
Accta 301A
Pro'sKit SS-989B
Pro'sKit SS-989A

Soldering Iron Tip is compatible with the following models of Hot Tweezers
Type
Form