Spectrum Analyzer ATTEN GA4063
No results found for your request.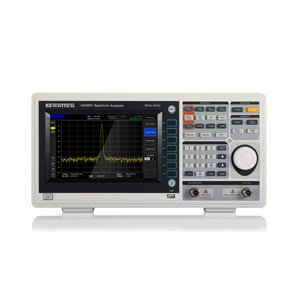 Add to comparison
Compare
Availability in stock:
HK
EU
CN
Note! This item is shipped within 7 working days.
Overview
ATTEN GA4063 is a portable digital spectrum analyzer with a frequency range 9 kHz to 3 GHz, phase noise -95 dBc/Hz (offset 10 kHz), displayed average noise level (DANL) ≤ -148 dbm. One of the device advantages is 8.5" color TFT widescreen LCD.
Technical characteristics, features and wide choice of measuring functions of ATTEN GA4063 allow its use in differebt spheres of science, education, research and industrial manufacturing.
There is an option of enhancing the measuring capabilities with a Tracking Generator.
Features
Frequency range: 9 kHz to 3 GHz.
Displayed average noise level (DANL): ≤ -148 dbm.
Phase noise: -95 dBc/Hz (Offset 10 kHz).
Full amplitude accuracy of <1.0 db.
Minimum resolution bandwidth (RBW): 1 Hz.
Standard preamplifier.
3 GHz Tracking Generator (optional).
Measurement capabilities and a variety of automatic settings.
8.5-inch (800×480) widescreen display.
The interface is simple and rich in affinity, operation and user-friendly design.
Compact portable design.
Weighing less than 7 kg.
Additional information
Download ATTEN GA4063 Data Sheet.
Technical Specifications
Frequency range
9 kHz to 3 GHz
Frequency span range
0 Hz (zero span), 100 Hz to 3GHz
Minimum resolution bandwidth (RBW)
1 Hz
Video bandwidth (VBW)
1 Hz to 3 MHz, 1-3-10 sequence
Displayed average noise level (DANL)
≤ -148 dbm
Phase noise
-95 dBc/Hz (Offset 10 kHz)
Full amplitude accuracy
< 1.0 db
Display
8.5" TFT color LCD, 800×480
Interfaces
USB, LAN, RS232, VGA
Power supply
100 V to 240 V AC, 50 Hz to 60 Hz
Power consumption
24 W Typical
Temperature range
0 °C to +40 °C (Operating)
-40 °C to +70 °C (Storage)
Relative humidity
< 95%
Dimensions
410 mm × 210mm × 136 mm
Weight
7 kg
Spectrum Analyzer ATTEN GA4063