Startup Professional Set
No results found for your request.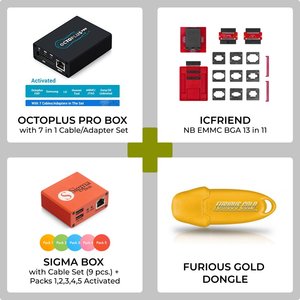 Add to comparison
Compare
Availability in stock:
HK
CN
Overview
Startup Professional Set is intended for experienced engineers working with phone hardware. Contains the latest most effective solutions based on JTAG and eMMC interfaces.
This set allows you to perform Smart Restore, Direct Unlock, Read Unlock Codes (hardware lock, SP-lock, etc.), Unlock Code Calculation by IMEI, Reset FRP, Write Firmware, Upgrade / Downgrade Firmware, Read/Write Full Flash, Format File System, Repair IMEI / Bluetooth / Wi-Fi, Restore Security, etc.
Octoplus Pro Box with 7 in 1 Cable/Adapter Set allows you to perform Flash/Unlock/Repair operations with Samsung & LG cell phones with Octoplus Box service tool. At the moment Octoplus is one of the most updatable and functional solutions available on the market. It features a wide range of service operations for most of Samsung & LG cell phones, has a multilingual software interface and lots of additional functions, available for various mobile operating systems.
The main intended purpose of Octoplus Pro Box is unlocking and reflashing LG and Samsung cellphones, but also its users have benefits of repairing dead boots of the devices (mobile phones, PDAs, modems, etc.) or recovery of these devices, until they become fully operational. Also, Content Extractor feature may become handy in today's service center offers list. Many additional services are available on demand with the use of Octoplus Server credits as well.
This box is also activated with:
Octoplus FRP Tool Activation enables FRP (Google Factory Reset Protection) reset operations for Samsung, Huawei, LG, Alcatel, Motorola cell phones
Octoplus Huawei Tool Activation allows you to provide support for HiSilicon and Qualcomm CPUs-based Huawei devices.
Octoplus Unlimited Sony Ericsson + Sony Activation lets you service (perform phone flashing procedures, unlock phone, repair IMEI, etc.) unlimited amount of latest Sony Ericsson mobiles with Octoplus Suite software.
For more information about features and supported models, please visit this page.
E-Mate X EMMC 13-in-1 Adapter is designated for direct EMMC memory chips connection with the wide range of supported BGA types.
It is compatible with all most known EMMC boxes: Riff, RIFF 2, ATF, Z3X Easy Jtag, Z3X Easy Jtag Plus, Medusa Pro.
For more information about supported BGA types, please visit this page.
Sigma Box with Cable Set + Sigma Pack 1, 2, 3 Activations is a brand new phone flashing and mobile unlocking tool that allows you to service the latest MTK, TI OMAP, Broadcom and Qualcomm based phones*.
Pack 1 Activation enables Direct Unlock and Repair IMEI features for the latest Motorola TI smartphones along with unique Yoda method of unlock/get unlock codes for the newest MTK-based Motorola, Alcatel, Huawei, ZTE and Lenovo smartphones*.
Pack 2 Activation enables service features for the latest Qualcomm Hexagon smartphones*.
Pack 3 Activation enables Remove FRP feature for Hi-Silicon Huawei Android and Qualcomm Huawei Android smartphones*.
For more information about features and supported models, please visit this page.
Furious Gold Box activated with Pack 1, Pack 2, Pack 3, Pack 4, Pack 5, Pack 6, Pack 7, Pack 8 and Pack 11 is a reliable Alcatel, BlackBerry, LG, Motorola, Sagem, Sharp, Siemens, Toshiba, Vodafone, ZTE unlock, flash and repair solution. The new redesigned Furious Gold Box brings the same functionality as Furious Gold Bling Bling Edition and expands it even further. Furious Gold Box package includes 31 cables.
With the purchase of Furious Gold Box you will also get annual access to Furious Gold support area and free updates. After the expiration you can renew your Furious Gold account.
Due to the onrush of technology and efforts to meet market demands, we retain the right to change the list of included cables and accessories. More details are available from our sales managers.
* Developer provides support only for those phones which are on the list of supported. Not all servicing features can be applied to some supported models, due to difference of hardware / software versions.
Specifications
Box is compatible with the following models of Cell phones

Ergo
CherryMobile
BQ
BLU
Asus
Samsung
LG
Motorola
Vodafone
Huawei
Lenovo
Blackberry
Sagem
Sharp
Siemens
Toshiba
Virgin
ZTE