Touchscreen compatible with China-Tablet PC 7"; Nanotab NT7081; Brend Sound Mix BE7281, (7", 189 mm, 112 mm, 30 pin, capacitive, black) #DH-0705A1-FPC05/MA-Z7Z35/TOPSUN_C0089(C0B)_A1/F-YL-7.0-6053-V01/ZD_070005A0/KDZX Z7Z67-Y/FM700402TC/Z7Z67/Z7Z35/TE-0700-0001/M1240/0030A/H-CTP070-006FPC/DH-0705A1-FPC05 SR/HH070PG-031/YJ038FPC-V0/W70
No results found for your request.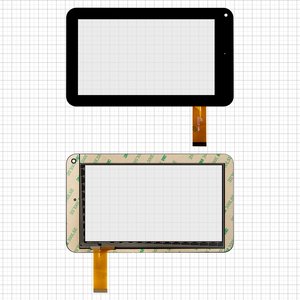 Add to comparison
Compare
Availability in stock:
HK
EU
CN
Overview
Warning! Do not make your order relying only on the tablet name!
This information is applicable to China-Tablet PC.
Before ordering a touchscreen, make sure that it is compatible with your tablet.
Our article "How to Choose the Touchscreen for a Chinese Tablet or Cell Phone?" will help you to identify the right touchscreen.
Please make the following steps pick up the necessary spare part:

measure the panel and compare the size with the one on our website;
disassemble your device to check the flat cable marking on your touchscreen and compare it with the product marking on our website .
The manufacturer can use different touchscreens with different marking and of different sizes.
Note! When substituting the touchscreen avoid its contact with the display or metal frame. Otherwise, it may cause unintentional activation, malfunctioning or axis shifting.
When the touchscreen stopped working or you have any difficulties with installation, use tips from our article or Tips Section.
Specifications
Touchscreen is compatible with the following models of Tablets

China-Tablet PC 7"
Nanotab NT7081
Brend Sound Mix BE7281

Diagonal
Height
Width
Number of pins
Characteristics
Color
Spare Parts Quality Levels
Touchscreen compatible with China-Tablet PC 7"; Nanotab NT7081; Brend Sound Mix BE7281, (7", 189 mm, 112 mm, 30 pin, capacitive, black) #DH-0705A1-FPC05/MA-Z7Z35/TOPSUN_C0089(C0B)_A1/F-YL-7.0-6053-V01/ZD_070005A0/KDZX Z7Z67-Y/FM700402TC/Z7Z67/Z7Z35/TE-0700-0001/M1240/0030A/H-CTP070-006FPC/DH-0705A1-FPC05 SR/HH070PG-031/YJ038FPC-V0/W70