Sigma Software v.2.09.00
Sigma Software v.2.09.00 and Sigma Firmware v.2.09 are out!
Are you ready for the BIG BANG?! Brace yourself, cause it's not a theory anymore! Observe the genesis of new Universe!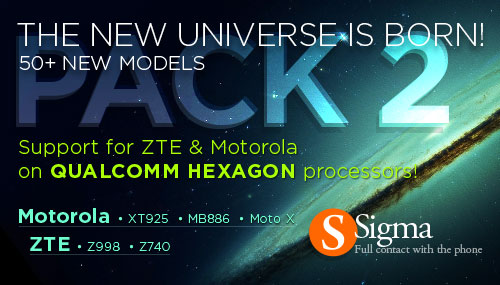 Welcome Sigma Pack 2 - the successful implementation of breakthrough ideas in innovative solution. It will transform the future of GSM world.
Just check what's inside this new Pack!
Direct unlock and Read unlock codes support for smartphones based on Qualcomm Hexagon processors:
ZTE:
Blade Apex
Blade G LTE
Grand Era LTE
Grand S Flex
Grand X LTE
Mustang
Megafon 4G Turbo
Orange Novi
Overture LTE
Radiant
Sonata 4G
SFR StarXtrem
Telstra Frontier 4G
Telstra Dave
Telstra Easy Touch 4G
TMN Smart A60
Unico LTE
T81
T82
T83
U9810
V9800
z740
Z740G
Z995C
Z995
Z998
Motorola:
Atrix 3 HD
Atrix 3 HD
Atrix HD LTE
DROID RAZR M 4G LTE
MB886
Photon Q 4G LTE
RAZR HD
RAZR M
RAZR MAXX HD
Softbank 201M
XT897
XT902
XT905
XT907
XT925
XT926
Motorola:
DROID ULTRA *
DROID ULTRA MAXX *
DROID MINI *
Moto X *
XT1030 *
XT1052 *
XT1053 *
XT1055 *
XT1056 *
XT1058 *
XT1060 *
XT1080 *
XT1080M *
* Please be warned that these models are in beta test mode.
We're doing our best to add these models officially to the list of supported as soon as possible.
Basic hints:
Your phone has to be rooted in order to be unlocked. Read the full manual here
It's potentially possible to service phones of other brands that are powered by Qualcomm Hexagon processors. We welcome you to test new devices and share your experience with us.
Conditions of use:
This solution is available as a virtual product - Pack 2 activation.
The most common questions about Packs are collected here.