Sigma Software v1.09.02 is out!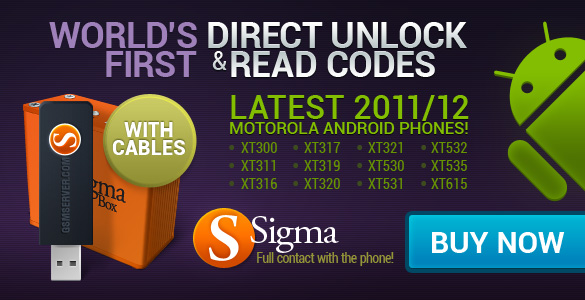 Sigma Software v1.09.02 is out! Added World's First Direct UNLOCK and Read Unlock Codes for the following Motorola smartphones:
XT300 SPICE
XT311 FIRE
XT316 SPICE Key
XT316 MOTO
XT317 FIRE
XT319 MOTO
XT320 DEFY MINI
XT321 DEFY MINI
XT530 FIRE XT
XT531 SPICE XT
XT531 MOTO
XT532 MOTO
XT535 DEFY XT
XT615 MOTOLUXE
XT615 MOTO
XT615 MOTOSMART PLUS
Note: unlock manual for Motorola smartphones was slightly modified. Please get acquainted with it before you proceed to operation.