Sigma Software v1.09.03
Sigma BOOM! The GREATEST sensation! Sigma Software v1.09.03 is out!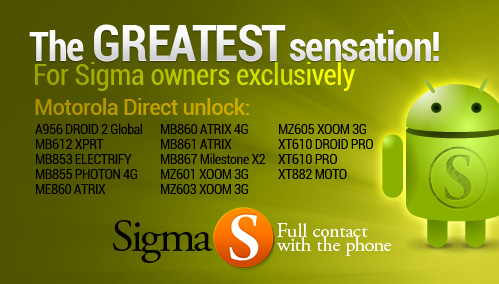 1. Added WORLD'S FIRST Direct Unlock and Read Unlock Codes via USB cable features for the following Motorola mobile devices:
A956 DROID 2 Global
MB612 XPRT
MB853 ELECTRIFY
MB855 PHOTON 4G
ME860 ATRIX
MB860 ATRIX 4G
MB861 ATRIX
MB867 Milestone X2 (for testing)
MZ601 XOOM 3G
MZ603 XOOM 3G
MZ605 XOOM 3G
XT610 DROID PRO
XT610 PRO
XT882 MOTO
You can find Unlocking instructions for the specified above models at the "Help" section of Sigma website.
2. Improved heuristic method which allows to unlock the smartphone even if it has an unknown firmware version.
3. Added Verykool i600 to the list of supported MTK-based cellphones.