Waveform Generator Signal Power Amplifier RIGOL PA1011
No results found for your request.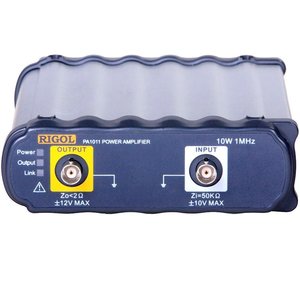 Add to comparison
Compare
Availability in stock:
HK
EU
CN
Overview
RIGOL PA1011 is a USB controlled, 1MHz, 10W power amplifier for Rigol DG series function / arbitrary waveform generators. The PA1011 can be controlled using a PC running the RIGOL PA1000 application or via the front panel of a compatible function / arbitrary waveform generator, such as the RIGOL DG1022 or DG5000 series function / arbitrary waveform generators.
Features
Communication with  DG and PC software through the USB interface.
Enables to set the Gain (x1 or x10), Polarity (Invert or Normal), Output  offset  and  the  output  status  in  connection  with  its software.
Up to 50 kΩ output impedance.
The integrated output protection circuit (overcurrent protection and  internal  temperature  abnormal  protection) ensures the instrument is working stably and safely.
Compact size, easy to carry and use. 
Compatibility
Specifications
Waveform Generator Signal Power Amplifiers is compatible with the following models of Function / Waveform Generators

RIGOL DG1012
RIGOL DG1021
RIGOL DG1022
RIGOL DG1032Z
RIGOL DG1062Z
RIGOL DG2021A
RIGOL DG2041A
RIGOL DG3061A
RIGOL DG3101A
RIGOL DG3121A
RIGOL DG4062
RIGOL DG4102
RIGOL DG4162
RIGOL DG5071
RIGOL DG5072
RIGOL DG5101
RIGOL DG5102
RIGOL DG5251
RIGOL DG5252
RIGOL DG5351
RIGOL DG5352
Waveform Generator Signal Power Amplifier RIGOL PA1011